Long Sleeve Maxi Dresses for Different Body Types
Long sleeve maxi dresses are all the craze these days. If you're tired of hot days, then consider changing up your summer wardrobe for a lightweight maxi dress. When it comes to shopping for maxi dresses, you will want to make sure that you choose something that flatters your body perfectly. 
Of course, this will depend on your own body shape. While maxi dresses tend to look great on both larger and smaller figures, there are certain styles that are more suitable for you depending on your size and shape.
Flattering Long Sleeve Maxi Dresses: A Style for Every Shape
Imagine wearing a long sleeve maxi dress to your next evening out. The best thing you can do is to choose a maxi dress that suits your body type. Your silhouette will shine like diamonds once you perfectly complement it with the appropriate clothing.



Chest Pleated Ankle Length Beige Floral Dress


This elegant beige floral dress with chest pleats is perfect for women with a pear-shaped body. The pleats add volume to the upper body, balancing out the proportions with the wider hips. The ankle-length cut elongates the legs, making this dress suitable for both casual and formal occasions.

Long Sleeve Black Floral Maxi Dress

Ideal for hourglass-shaped bodies, this long sleeve black floral maxi dress accentuates the natural curves of the waistline. The long sleeves provide coverage for the arms, while the maxi length creates a sleek, elongated silhouette that flatters any height.


Light Pink Flared Maxi Dress

The light pink flared maxi dress is perfect for apple-shaped bodies, as it skims over the midsection and creates a flattering A-line silhouette. The light pink hue adds a touch of femininity, while the maxi length elongates the legs and adds a touch of elegance to the overall look.

Daisy Embroidered Pink Long Maxi Dress

A great choice for rectangle-shaped bodies, this daisy embroidered pink long maxi dress adds curves and dimension to a straight silhouette. The embroidery detail on the dress creates visual interest, while the long maxi length adds a touch of sophistication and grace.

Blue V Neckline Flared Sleeve Dress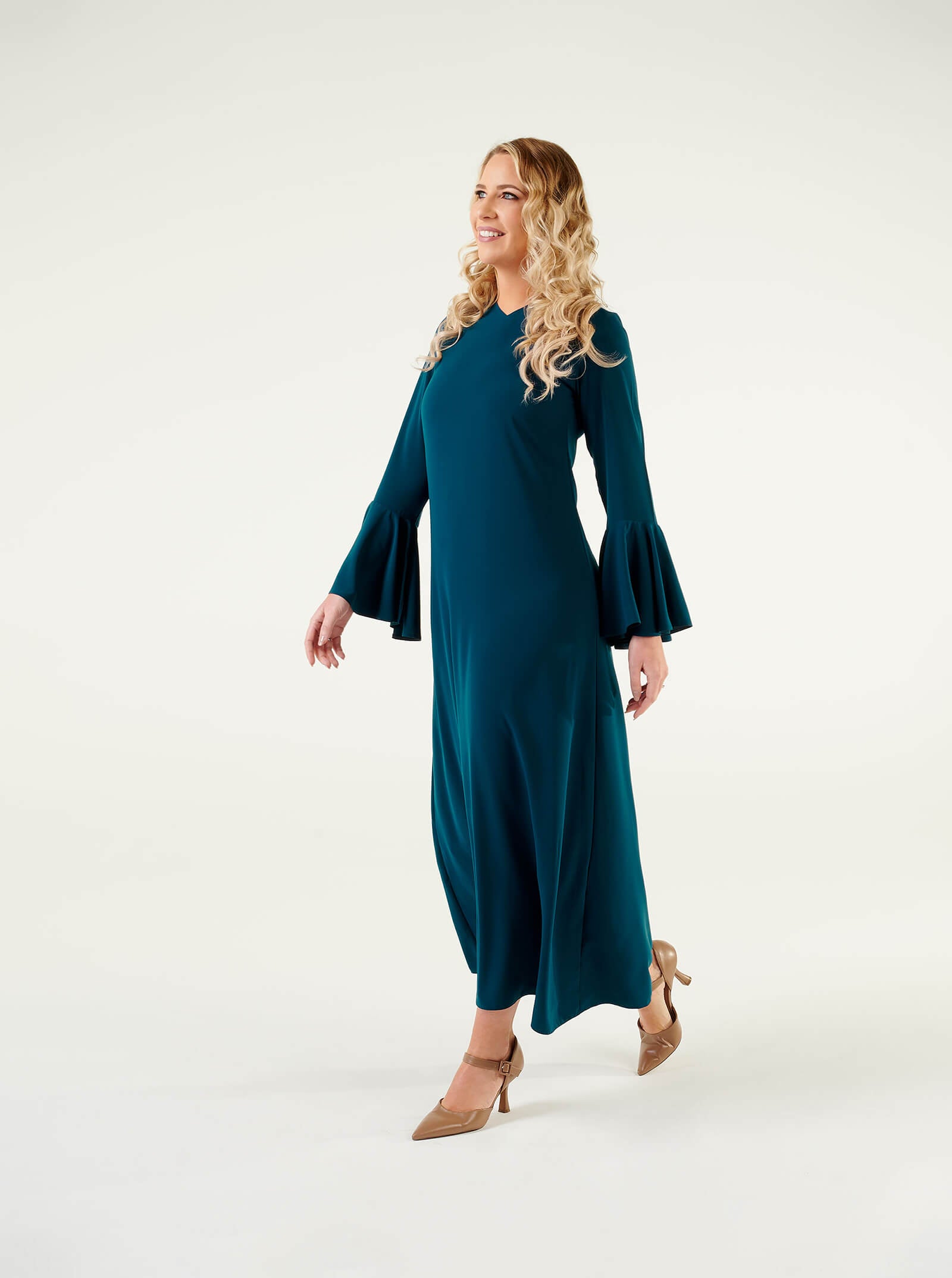 This blue V-neckline flared sleeve dress is an excellent option for inverted triangle body shapes. The V-neckline draws attention to the upper body, while the flared sleeves balance out broad shoulders. The maxi length adds a touch of elegance, making this dress suitable for various occasions.
Conclusion 
Discover your perfect long sleeve maxi dress in Birmingham, UK, and embrace your unique body shape with confidence! Our stunning collection offers styles that flatter every figure, ensuring you look and feel fabulous. Don't wait – decorate your wardrobe and make a statement at your next event. Shop now and find the maxi dress that makes you shine, because you deserve to feel beautiful in your own skin, right here in Birmingham, UK.