Dazzle & Charm: Stylish Modest Looks for Your Date
Indulge in a delightful fashion journey as we explore the world of modest dress ideas for a perfect first date outfit. With an array of elegant silhouettes and charming ensembles, you'll find the perfect balance between sophistication and allure. 
Step out in style and captivate your date's heart with these exquisite outfit inspirations designed to highlight your grace and beauty. Get ready to make a lasting impression as you embark on a fashion adventure that is sure to leave your date spellbound!
First Impressions: Chic and Modest Date Outfits
Your first date outfit is a reflection of your personality and sets the tone for the evening. Finding the perfect balance between chic and modest can be a challenge, but fear not, we have you covered. Explore our curated collection of chic and modest date outfits to make a lasting first impression that is sure to captivate your date's heart.
The Classic Midi Dress
A timeless choice for any first date, midi dresses exude elegance and sophistication while keeping it modest.
This classic attire is an excellent choice for those seeking a chic and modest date outfit. Falling gracefully below the knee, this dress style creates an elegant silhouette while providing ample coverage. 
Opt for a midi dress with a flattering neckline and a cinched waist to accentuate your natural curves. 

Choose from a variety of colours and prints to showcase your personal style and complement the occasion. 

Complete the look with a pair of classy high heels

and delicate accessories to exude sophistication and charm on your first date.
Tailored Trousers and Blouse
Show off your fashion-forward style in a pair of tailored trousers and a chic blouse. This combination is perfect for a casual yet classy date.
Select a well-fitted pair of trousers that complements your body shape and pair it with a stylish blouse. This combination creates a fashionable yet professional appearance, suitable for a dinner date or a visit to an art gallery. 
Finish off the ensemble with a pair of elegant pointy heels and a statement round clutch that showcases your unique style.
Maxi Skirt and Sweater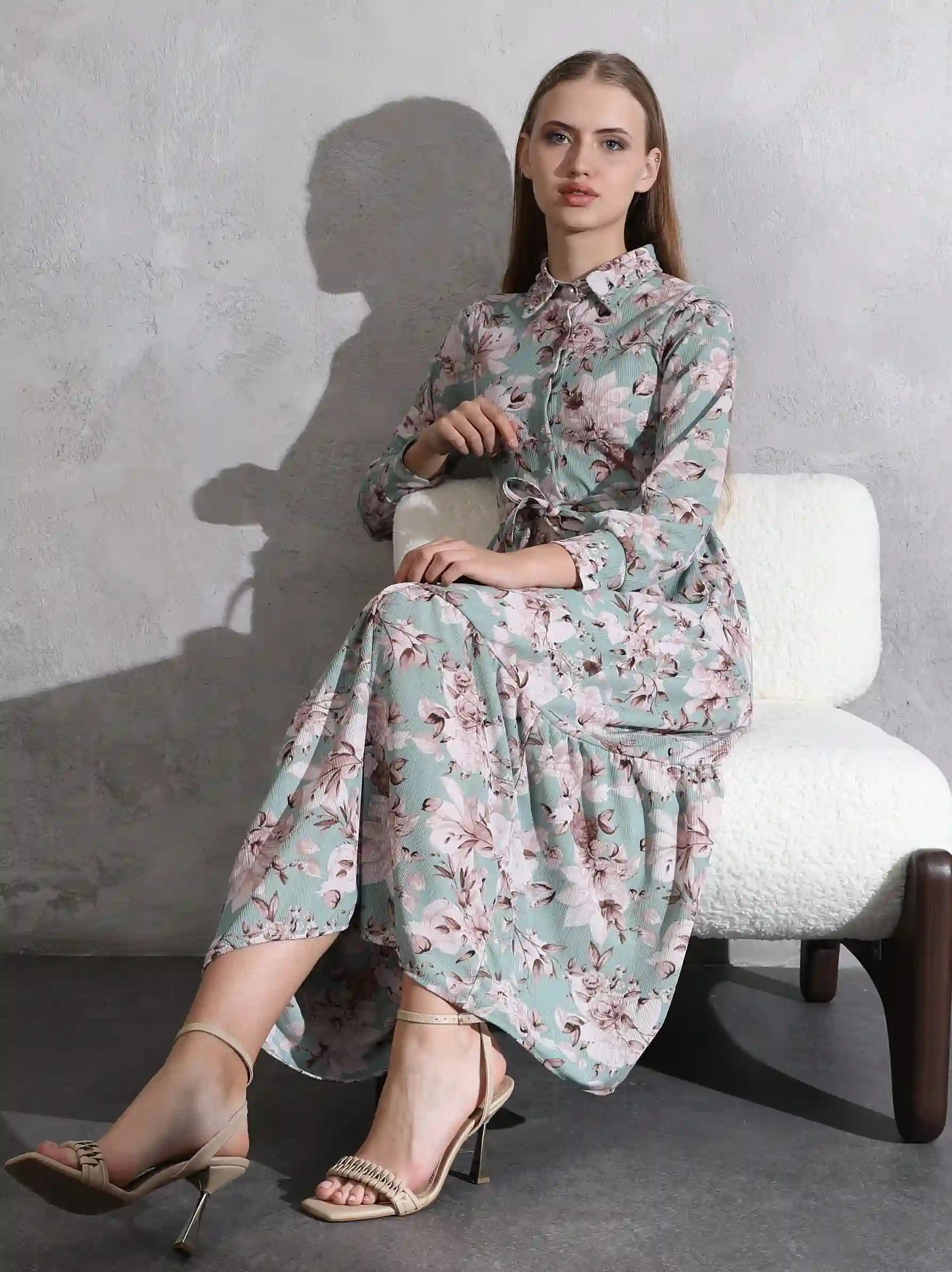 Stay cosy and stylish in maxi dresses and sweaters combo. Choose a flowy maxi skirt with a flattering waistline and pair it with a chic sweater that compliments your figure. 
Add a statement necklace to elevate the look and add some sparkle. This ensemble works well for a casual daytime date or a romantic evening stroll. 
Add a touch of glamour with a statement necklace and a pair of ankle boots to complete the look while maintaining a modest appearance.
Jumpsuit
Step out of the box with a chic jumpsuit that is both stylish and modest. You can dress up or down this versatile and trendy date outfit depending on the occasion. 
Choose a jumpsuit that flatters your body shape and enhances your curves. This outfit is perfect for a night out on the town or a fancy dinner date. 
Pair the jumpsuit with statement earrings and stiletto heels to create a stunning and modest look that will turn heads. You can also go casual with some statement jewellery and flats or sneakers.
Denim Skirt and Blouse
Keep it casual yet stylish with a denim skirt and blouse. The combination is a classic and modest date outfit that is both comfortable and chic. 
Choose a denim skirt with a flattering cut and pair it with a blouse that complements your body shape. 
This ensemble works well for a daytime date or a casual evening outing. Accessorise with a statement necklace and heeled sandals to complete the look while maintaining modesty and style.
Additional Solutions to Your Modest Dress Choice Queries 
We know girls feel super excited and anxious at the same time for their first day. So you might also have a bunch of the questions in your mind. Let's address a few queries here with best solutions. 
Your first query can be: how should I dress to impress a guy on a first date? Or What should I wear on a first date modest?
Well to dress to impress a guy on a first date, choose an outfit that reflects your personal style and makes you feel confident. Consider the location and time of the date when selecting your outfit. For a dress option, a little black dress or a wrap dress in a flattering colour are both classic and timeless. 
Pair with simple heels or flats and minimal accessories. Remember, confidence is key and will make any outfit shine!
Again if you think that how to dress attractive but modest?
Then according to fashion experts, you can achieve this by choosing clothing that covers your body appropriately, but still accentuates your best features. For example, you can wear clothes that are fitted but not too revealing, such as a form-fitting dress with a high neckline and knee-length hem. 
Additionally, you can choose fabrics that are high-quality and luxurious, such as silk, cashmere, or wool. Finally, you can accessorise with jewellery, scarf, or other items that draw attention to your face and away from your body.
And if you are stuck in your thoughts like should I dress modestly for a first date?
Then the answer is that the choice to dress modestly on a first date varies based on personal values and cultural or religious background. It's important to wear something that reflects your personal style and makes you feel confident, regardless of societal norms or expectations. Ultimately, the focus should be on getting to know your date and enjoying their company, rather than solely on appearance.
Conclusion
Dressing modestly for a date doesn't mean sacrificing style or elegance. By choosing versatile pieces like a jumpsuit, midi dress, or denim skirt and blouse, you can create stunning outfits for any occasion.