5 Modest Swimwear Outfit Ideas for Your Summer Vacation
Hey there, fellow beach lovers! Are you searching for the perfect blend of style and modesty in your swimwear? Look no further! We've handpicked a stunning collection of Islamic swimsuits and modest swimwear UK options just for you. 
Get ready to explore your inner fashionista while staying true to your values, as we jump into our top 5 modest swimwear ideas. Trust us, your summer vacation wardrobe is about to get an irresistible delightful change that you'll absolutely adore!
5 Stylish Yet Modest Swimwear Options for Your Summer Getaway
Summer is here, and with it comes the much-awaited opportunity to soak up the sun and immerse yourself in crystal-clear waters. But for those of us who value modesty and style, finding the perfect swimwear can be quite the challenge. 
Fear not, lovely ladies of Birmingham and beyond! We've got you covered with five fabulous yet modest swimwear options that will have you looking chic and feeling confident on your summer getaway. From the ever-popular burkini swimwear to other fashionable alternatives, these picks will ensure you make a splash without compromising your values.
1. Short Sleeve Modest Swimwear Set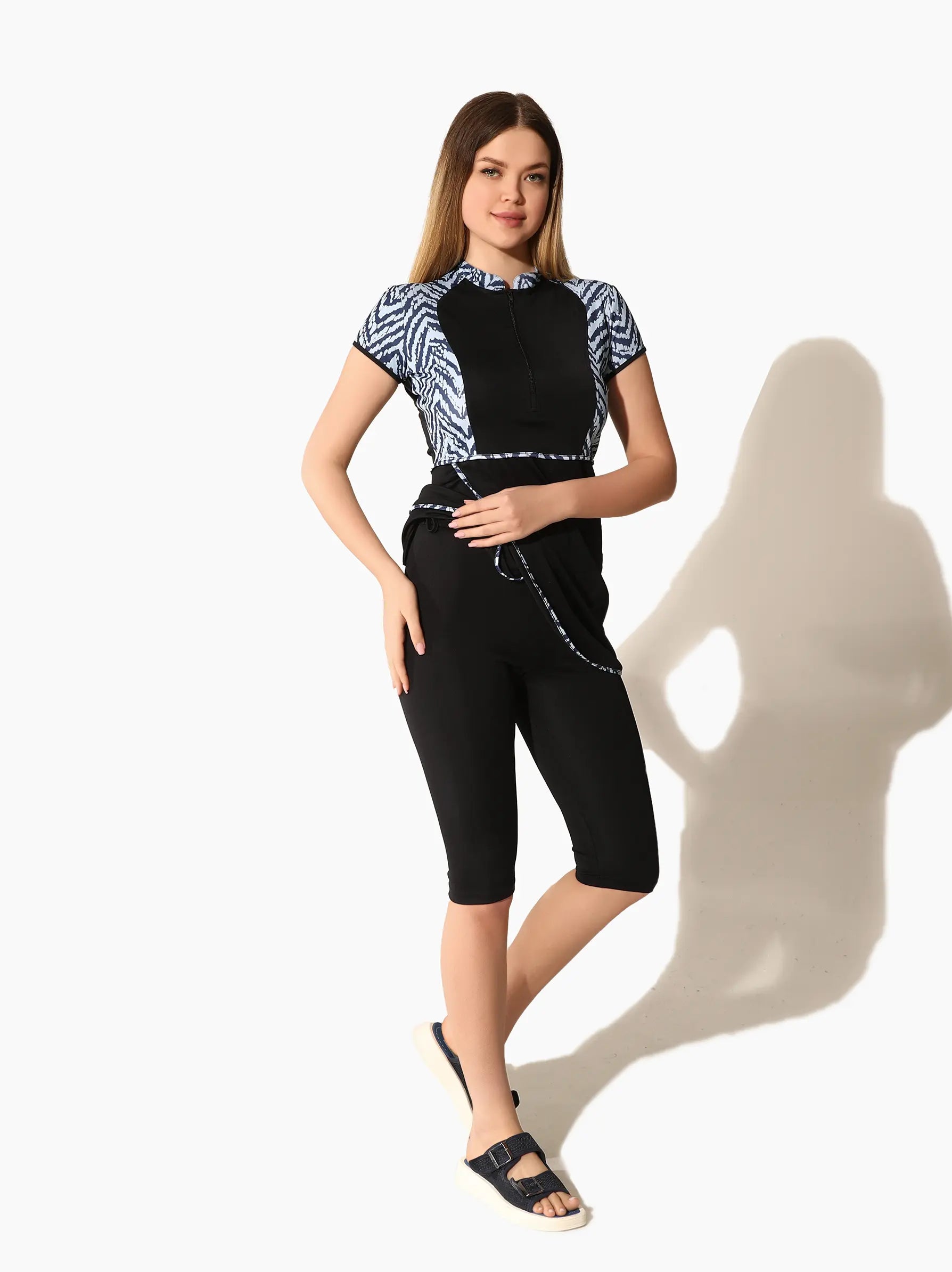 Who says elegance can't be comfortable? Life's a beach, and we're just playing in the sand – with fabulous swimwear, of course! So try this Short Sleeve Navy Blue Burkini Swimsuit Set which is the epitome of sophistication and style. 
The timeless navy blue shade exudes a sense of calm and serenity, while the short sleeves provide a touch of modesty and protection from the sun. 
This swimsuit set is perfect for those who want to feel confident and comfortable without sacrificing their sense of style. Pair it with a matching swim turban for a truly stunning beach ensemble that will turn heads and make you feel like the queen of the sea. Go on, don't you deserve to feel like royalty?
2. Full Length Modest Swimwear UK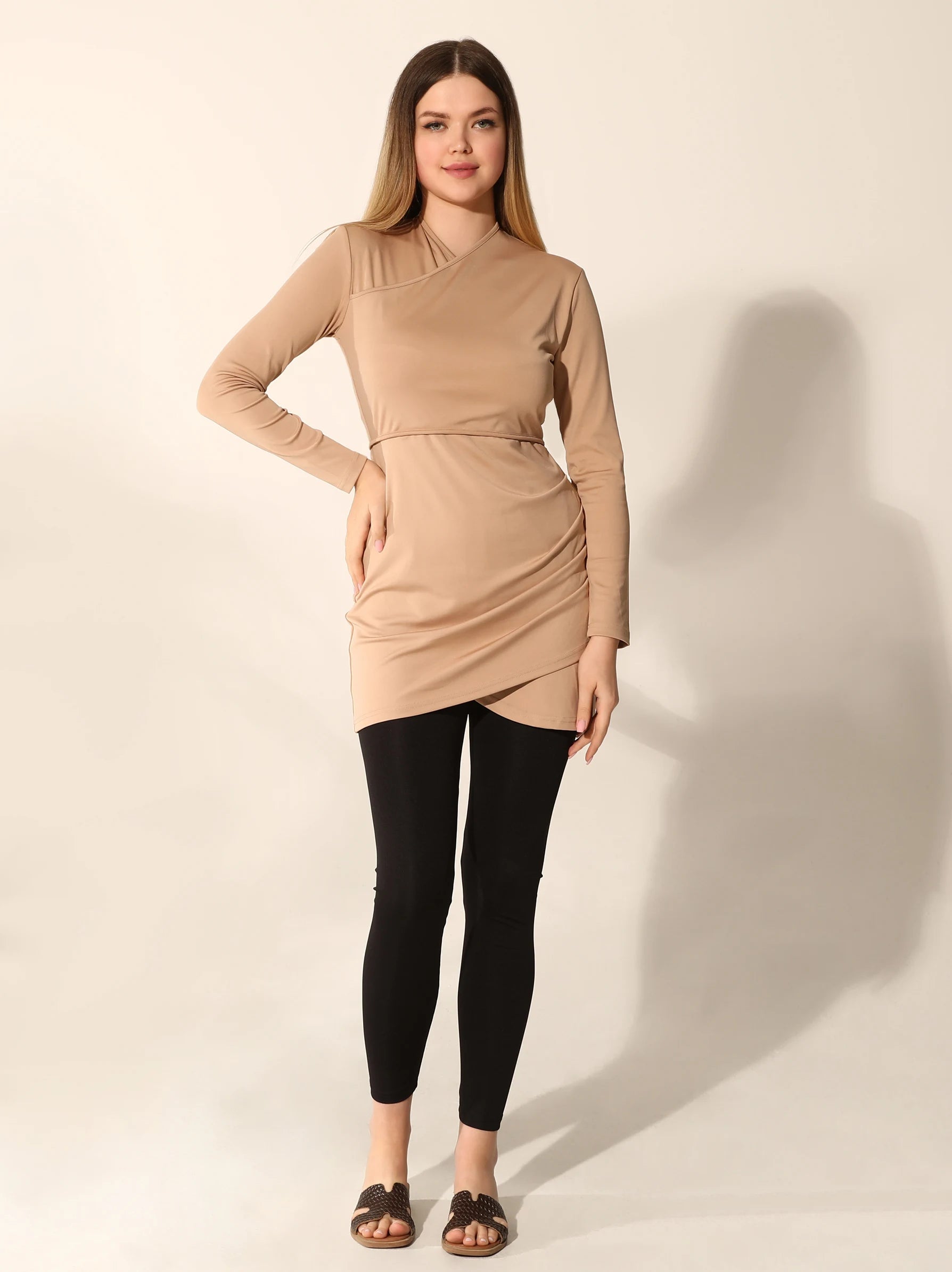 Modesty meets style: who says you can't have the best of both worlds? So ready to turn heads without even trying? Make a bold statement with this islamic swimsuit, Beige and Black Full Length Burkini Swimsuit Set. This striking design features a unique colour combination that is both eye-catching and flattering, allowing you to stand out from the crowd while maintaining your modesty. 
The full-length design provides maximum coverage and protection, ensuring you can enjoy your time in the sun without worrying about harmful UV rays. 
Add a touch of glamour to your beach wardrobe with this show-stopping piece that will leave you feeling like a true fashion icon. After all, who doesn't love a little drama in their beach attire?
3. Blue Printed Burkini Swimwear Set
Why fit in when you were born to stand out? Dare to be different with the Blue Printed Burkini Swimsuit Set. This gorgeous ensemble features a stunning print that captures the essence of summer and adds a touch of whimsy to your beach attire. The vibrant blue hue is both refreshing and invigorating, inspiring feelings of joy and freedom. 
Discover your unique sense of style and make a splash with this captivating swimwear option that is sure to become a cherished addition to your summer wardrobe. Remember, life's too short to wear boring swimwear!
4. Black Modest Swimwear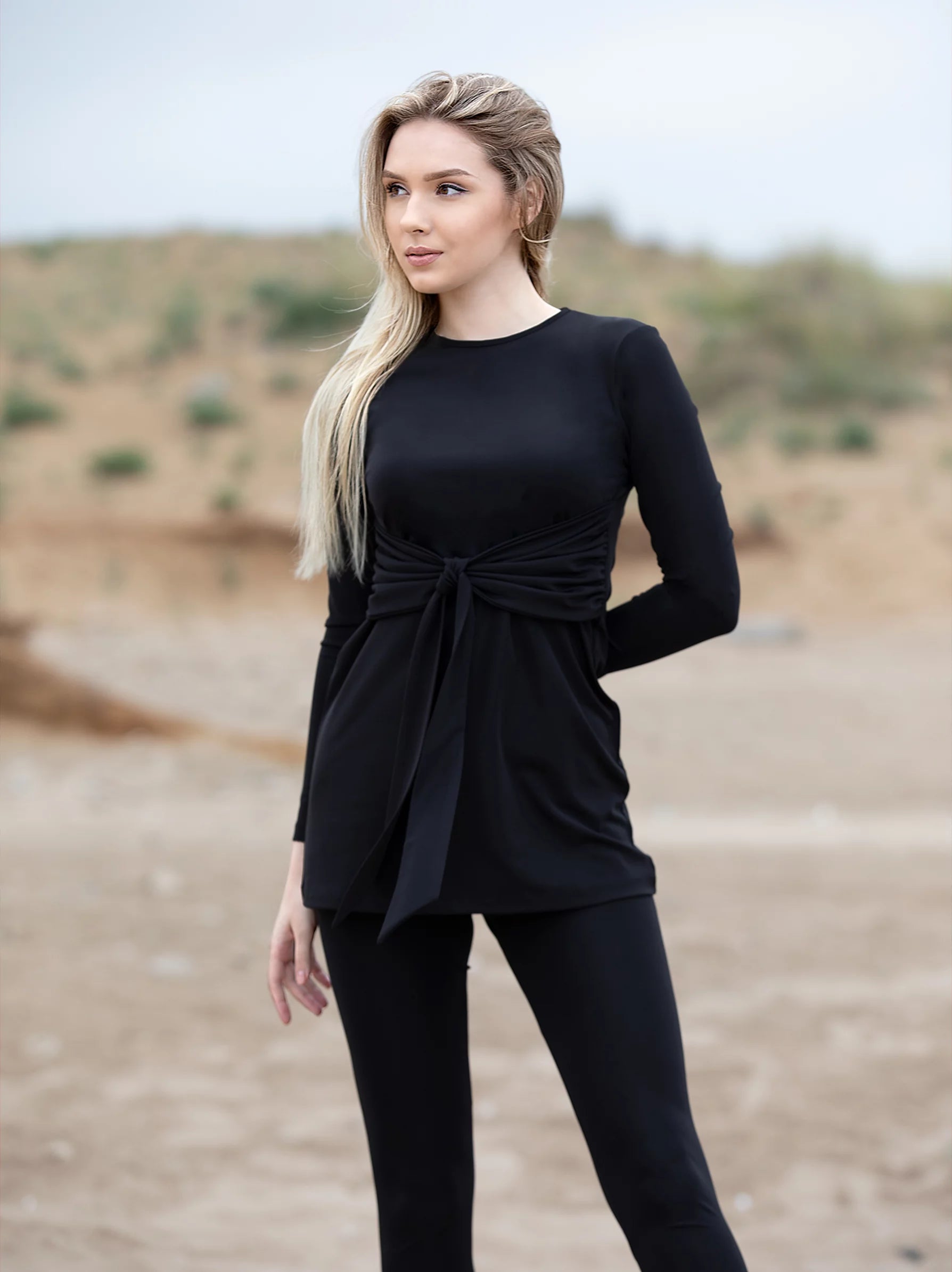 Make waves in modest swimwear – because confidence is your best asset. Sleek and sophisticated, the Black Tie Waist Burkini Swimsuit Set is the perfect choice for those who appreciate the finer things in life. The classic black colour is both slimming and versatile, while the tie waist detail adds a touch of elegance and refinement. 
This swimsuit set is the epitome of grace and poise, allowing you to feel confident and beautiful as you bask in the sun and create cherished memories with your loved ones. So go ahead, channel your inner Audrey Hepburn and make a stylish splash this summer.
5. Trim Burkini Swimsuit Set
Get into style with these chic swimwear options that'll make even the mermaids jealous. Treat yourself to the Black Burgundy Trim Burkini Swimsuit Set, a luxurious and stylish option that will have you feeling like royalty. The rich burgundy trim adds a touch of opulence and warmth, while the classic black design ensures you'll always look chic and polished. 
So Swim your heart out while looking like a beach goddess – because you deserve it! This swimsuit set is perfect for those who want to indulge in a little self-care and pampering, as they enjoy their well-deserved summer escape. Pair it with a matching swim turban for a truly regal look that will make you feel like the belle of the beach. After all, don't you deserve a little indulgence in your life?
Wrapping it Up!
Be the belle of the beach with modest swimwear Birmingham that's equal parts stylish, modest, and fabulous. 
Discover the beauty of islamic swimsuit with these five stunning options, each designed to make you feel confident, stylish, and fabulous.
Whether you're lounging by the pool, frolicking in the waves, or simply soaking up the sun, these irresistible swimwear choices will ensure you look and feel your absolute best. 
So go ahead, lovely ladies, and make a splash this summer with these heart-warming and delightful swimwear options. 
And remember, the best accessory is always a smile!