5 Ways to Wear a Floral Dress to Work
Hello, lovelies! Struggling to incorporate those beautiful floral dresses in the UK into your work wardrobe? Fear not, as we reveal 5 chic ways to don floral work dresses, ensuring you blossom while maintaining a professional look. Ready to explore?
Office-Ready Floral Dress Outfits:
Are you eager to make a style statement with your floral dresses in the UK workplace? Let us guide you through 5 fabulous ways to wear floral work dresses, so you can bloom with confidence and grace in a professional setting. Excited to dive in?
Looking for a Classic Option? 
This elegant shirt collar ankle sage green floral dress is perfect for the busy working woman who appreciates a timeless and stylish look. The shirt collar and ankle length provide a modest yet fashionable touch. Pair it with a tailored blazer and nude heels for a polished, professional look that will keep you comfortable all day. Ready to rock this stunning piece among floral dresses in the UK?
How About a Pop of Colour? 
Add some vibrancy to your work wardrobe with this red and black floral print turtle neck dress. Ideal for the confident working lady who loves to express herself through her outfits. Wear it with black tights and ankle boots for a chic, office-appropriate ensemble that will boost your mood and productivity. Curious to see how this floral work dress transforms your style?
Want a Subtle and Sophisticated Choice?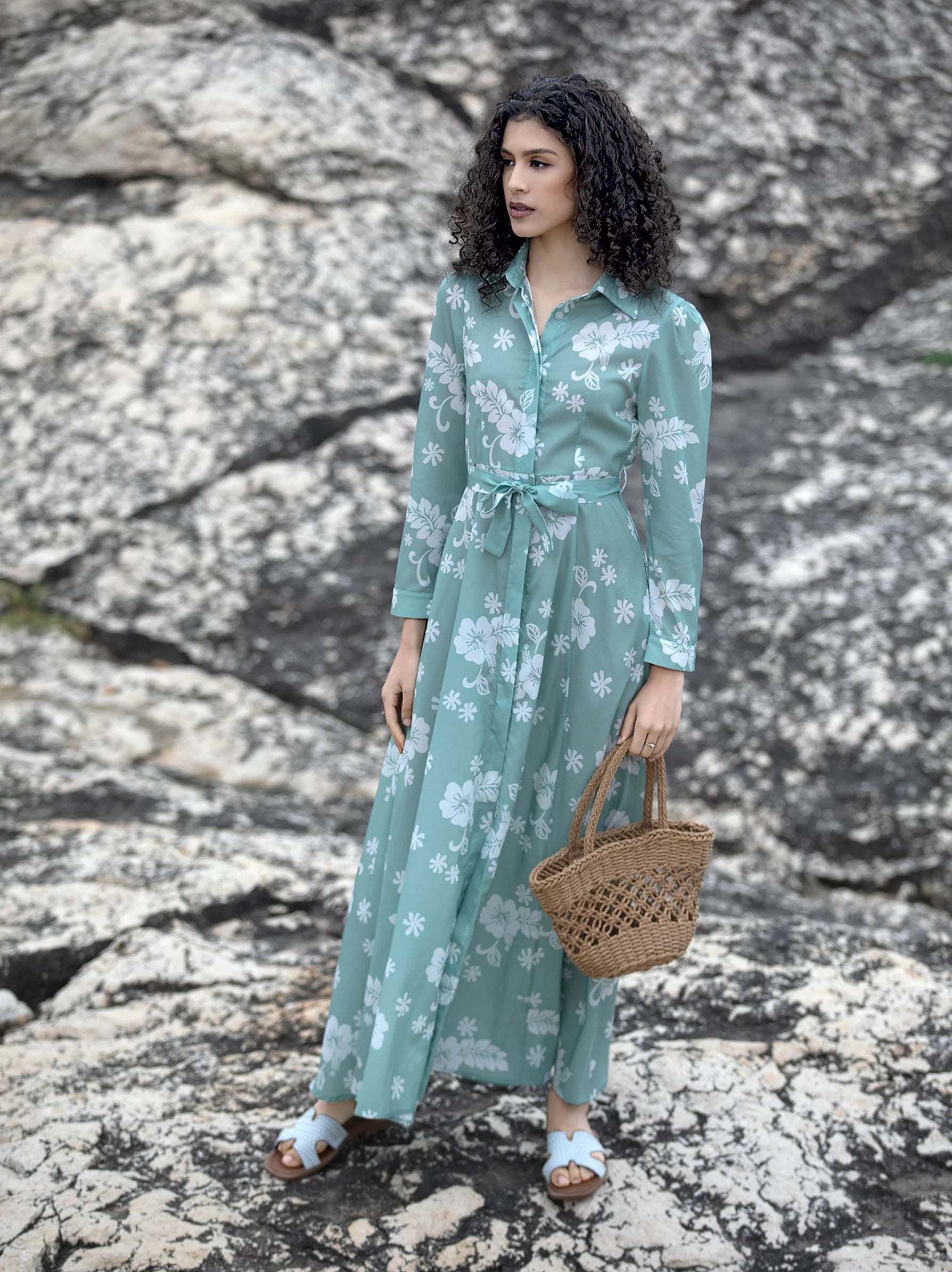 The light green floral shirt dress is a versatile option that can be dressed up or down for the office. Perfect for the hardworking woman who values adaptability in her wardrobe. Style it with a waist belt, black tights, and loafers for a refined and effortless look that will keep you focused on your tasks. Excited to flaunt this among your floral dresses in the UK?
Need a Breezy and Elegant Option? 
This blue floral chiffon midi dress is a lovely choice for a warm day at the office. Designed with the comfort of working ladies in mind, it's both stylish and practical. Pair it with a white blazer and strappy heels for a sophisticated yet comfortable outfit that will help you stay cool and collected during those long meetings. Can't wait to try this floral work dress?
Craving a Bold and Modern Look? 
Make an impression with this fuchsia floral bishop sleeve longline dress. Ideal for the ambitious working woman who isn't afraid to stand out. Style it with black pumps and minimal accessories for a chic, contemporary work outfit that will leave you feeling empowered and ready to conquer your day. Ready to stand out with this striking addition to your collection of floral dresses in the UK?
Wrappin It Up!
Ready to upgrade your work wardrobe with these stunning floral dresses in the UK? Tap into your inner working woman and let your style blossom with these versatile, chic, and comfortable options. Which floral work dress will you choose to make a lasting impression?