The Best Place to Buy Floral Dresses Online
Are you on the hunt for the perfect online destination to purchase stunning floral dresses? We've got the ideal spot for you - Modora UK! 
In this fun and interactive blog post, we'll explore its  gorgeous collection of floral dresses, along with the reasons why it's the best place to shop online. Are you ready to test your floral knowledge and swoop into fashion hacks to elevate your ensembles to new heights? Let's begin!
The Perfect Floral Dress Collection Awaits at Modora
Modora UK has an extensive collection of floral dresses to suit all tastes, ranging from long sleeve floral dresses to lighter chiffon midi dresses. Here's a glimpse of what's in store for you, we are choosing 5 top selling products to showcase the perfect modest floral dresses in the UK.
Black Floral Maxi Dress
Elegant and sophisticated
Delicate black floral print on white
Flattering A-line silhouette
Style with a belt and heels or boots
Shirt Collar Ankle Length Dress

It's rare to find the kind of features this shirt collar ankle length sage green floral dress has;
Vintage charm

Yellow and pink floral print on sage green

Classic shirt collar and ankle-length design

Pair with a sun hat and wedge sandals
Fuchsia Floral Longline Dress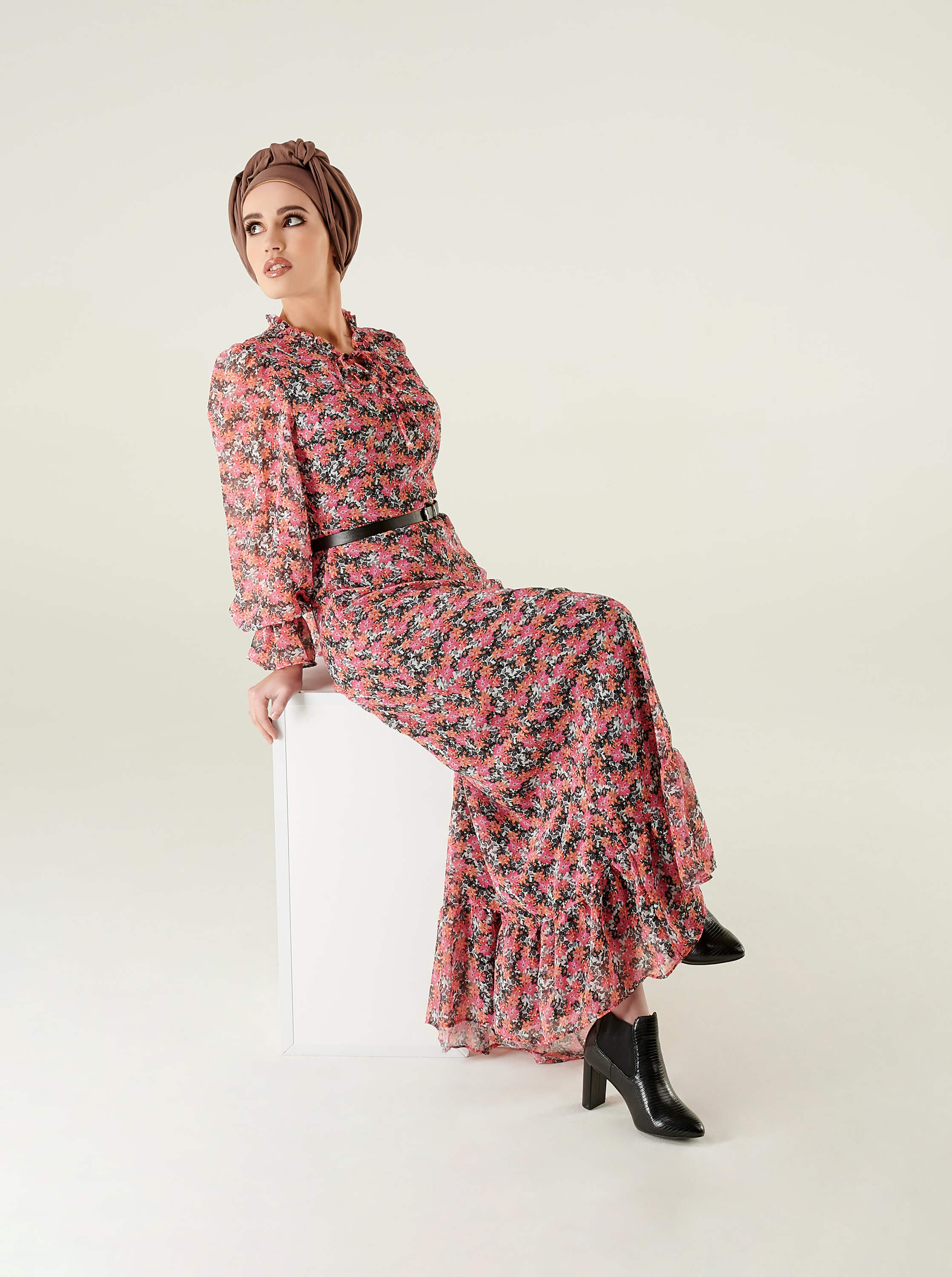 Before knowing the features it's time to feel the essence of a 
fuchsia floral bishop sleeve longline dress
.
Vibrant and bold
Stunning fuchsia floral pattern
Dramatic bishop sleeves and flowy design
Style with nude heels and minimalistic jewelry
Red and Black Floral Print

Sultry and bold

Red and black floral print

Figure-hugging silhouette and turtleneck collar

Pair with black stilettos or ankle boots and a statement clutch
Light Green Floral Shirt Dress

This 

light green floral shirt dress

 has its own charm and will enhance the beauty of the wearer. 

 
Casual and chic

Captivating floral print in shades of pink and green

Button-up front

Accessorize with a thin belt and heeled sandals or white sneakers
Now you have a quick overview of each beautiful floral dress in the UK. Enjoy shopping and creating fabulous looks with these stunning dresses!
Fashion Trivia: Which 1960s fashion trend involved vibrant floral patterns and geometric shapes? (Hint: A world-famous British model and actress was a major figure in popularizing this look.) Keep reading, and we'll reveal the answer later in the blog!
Why Choose Modora UK for Your Floral Dresses?
Here are five compelling reasons why Modora is the ultimate destination for floral dress enthusiasts:
Variety
With an array of styles, colors, and patterns, Modora UK's expansive collection caters to everyone's unique fashion preferences.
Quality
Made with top-notch materials, Modora UK's dresses provide both style and durability.
Price
Offering competitive prices and frequent sales, Modora UK makes it easy to snag your dream floral dress without breaking the bank.
Hassle-Free Shopping Experience
With an intuitive website, secure payment options, and reliable shipping, shopping for your perfect dress has never been easier.
Customer Support
Have a question or concern? Modora UK's friendly customer support team is always ready to assist you.
Style Hack:
 

Pair your new floral dress from Modora UK with a statement belt or eye-catching jewelry to create a unique and fashionable ensemble.

Solve the Puzzle
Were you able to guess the 1960s fashion trend from our trivia question earlier? If you guessed "Swinging London" or "Mod Fashion," you're absolutely right! Twiggy, the iconic British model and actress, played a significant role in popularizing these colorful and dynamic patterns alongside geometric shapes.
Concluded Note!
So, there you have it! Modora UK offers a beautiful collection of floral dresses that cater to every fashionista's tastes. With a delightful mix of various styles and an enjoyable shopping experience, this platform has established itself as the go-to destination for stylish floral dresses online. Grab your favorite dresses from their selection and make a vibrant statement wherever you go. Happy shopping, fashion lovers!