Modest Swimwear for Every Body Shape: A Comprehensive Guide
Women of all shapes, sizes, and races deserve to look beautiful. And today's modest swimwear industry does an excellent job of providing stylish and trendy outfits for the woman who needs more coverage. However, it can still be challenging to find a suit that flatters your particular figure. No worries you have us now!
What is Modest Swimwear?
Modest swimwear is designed to provide more coverage than traditional swimwear, ensuring that women feel comfortable and confident while enjoying their time at the beach or pool. This kind of swimwear often includes longer sleeves, higher necklines, and skirts or pants that cover the thighs. One popular type of adequate swimwear is the burkini, which is a swimsuit that covers the entire body except for the face, hands, and feet.
Why Choose Modest Swimwear?
There are several reasons why women might choose to wear decent swimwear, including personal preference, religious beliefs, or simply wanting more sun protection. Adequate swimwear allows women to enjoy water activities without feeling self-conscious or sacrificing their values. Additionally, it provides extra sun protection, which can help prevent sunburn and reduce the risk of skin cancer.
Types of Modest Swimwear
Most demanding types for you to choose from;
Burkini
The burkini is a type of modest swimwear that covers the entire body, except for the face, hands, and feet. It is a popular choice among Muslim women who wish to maintain their modesty while participating in water activities. The burkini typically consists of a long-sleeved tunic top and pants, with a separate head covering called a hijab.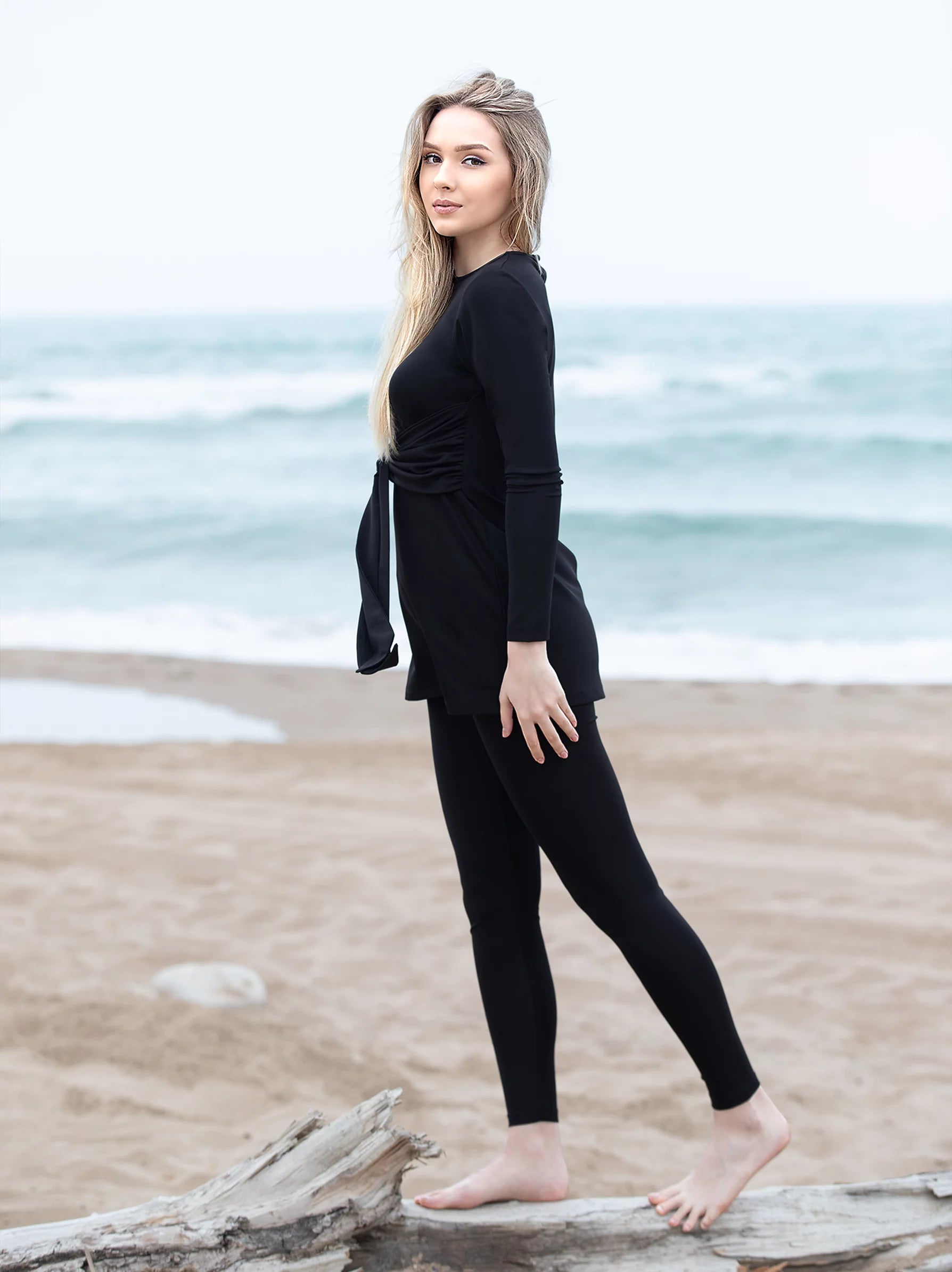 The black burkini is a popular choice for women who prefer a classic and versatile look. This style is perfect for those who want a modest swimsuit that can easily be paired with any color or patterned swim cap or accessories. A black burkini is a timeless option that will never go out of style.
Swim Dresses and Skirted Bottoms
Swim dresses and skirted bottoms are another type of modest swimwear that provides more coverage than traditional swimwear. These styles feature a dress or skirt that covers the hips and thighs, while still allowing for freedom of movement in the water.
Choosing the Right Modest Swimwear for Your Body Shape
When selecting swimwear, it's essential to consider your body shape to ensure a comfortable and flattering fit. Here are some tips for choosing the perfect adequate swimwear for your body shape:
Pear-Shaped
Women with a pear-shaped body have wider hips and thighs compared to their shoulders and bust. To balance out your proportions, look for modest swimwear with a patterned or brightly colored top to draw attention upwards. A burkini with a flared tunic top or swim dress can also help create a more balanced silhouette.


Apple-Shaped
Apple-shaped women have a fuller bust and waist, with narrower hips. To create a more balanced look, choose decent swimwear with a darker color or vertical stripes on the top and a lighter color or pattern on the bottom. A swim dress with a slightly flared skirt can also help to create a more defined waistline.


Hourglass-Shaped
Hourglass-shaped women have a well-defined waist and balanced bust and hip measurements. To accentuate your curves, look for swimwear with a belted waist or a wrap-style top. A burkini with a tie waist or a swim dress with a fitted bodice can also help to highlight your waist.


Rectangle-Shaped
Women with a rectangle-shaped body have similar measurements for their bust, waist, and hips. To create the illusion of curves, choose decent swimwear with ruffles, patterns, or color blocking that adds visual interest to the bust and hips. A burkini with a peplum top or a swim dress with a flared skirt can also help to create a more hourglass-like silhouette.
Where to Shop for Decent Swimwear?
One great place to shop for swimwear, including burkinis and black burkinis, is Modora UK. They offer a variety of styles, colors, and patterns to suit every body shape and personal preference.
Conclusion 
We hope you have enjoyed this list of the best modest swimwear for every body shape, and have been able to find something in this collection that can suit your own specific needs. For more information about finding the perfect fit for your body shape or style, we recommend reading our general tips for buying a bikini. 
By considering your body shape and personal style preferences, you can find the perfect modest swimwear to feel confident and stylish at the beach or pool. It's an excellent option for women who want more coverage and comfort while enjoying water activities. 
Thanks so much for reading!